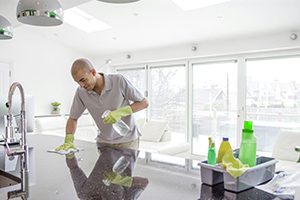 The clean home is not a caprice! It is a must to keep the good looking of your property and have the efficient rest, which you blamed for the whole day at work.
That's why we established our company and versed our knowledge namely in the house cleaning services, which are available in all Central London. Don't hesitate to ask for help to manage with the cleaning tasks at home.
We are recognised as the best provider in this industry. This reputation we owe to our hard working cleaning techs. They always strive to please the needs of all of our customers and perform high-qualitative cleaning session.
Not a nook is overlooked by their sharp eyes and all the hassle is avoided. We won't turn your house upside down with our presence, but even the opposite- you won't even understand that we are at your home.
We appreciate the level of trust, which you give us by letting us in your property. To make you feel more secure in our hands, we would like assure you that all of our cleaners are fully insured and vetted.
Meticulous house cleaning services in Central London
The cleanliness of your house is something that should be specially taken care of. Your property is our priority. Order our house cleaning services in Central London, which are designed to provide the following:
Honesty and reliability to all of our customers
Insured and bonded cleaning team
Protection of the customers' satisfaction and interests
Competent and systematical cleaning session
Services, appropriate for one-off or regular cleaning of the house
Adaptive cleaning appointments, complied with your preferences
Humble rates, affordable by everyone
We established a tradition of high values and great quality. That's why all of our customers are happy with our performance. Give us a try and let the results be the proof of our words!
To undertake the cleaning of your house and maintain it on regular basis means that you need to set aside enough time for that. It is a vicious circle, which you can't escape by yourself. That's why we are ready to help you get rid of the cleaning chores and the mess at once. Our cleaning experts will sanitise the property in the utmost way, leaving state-of-the-art condition.
Get in touch with our support centre and inform yourself about our house cleaning services, which we deliver in Central London. We are devoted to our job and to provide more people with the welcoming condition. That's why we minimised the rates, so that you have no more excuses for not booking with us. We would be more than glad to hear from you!